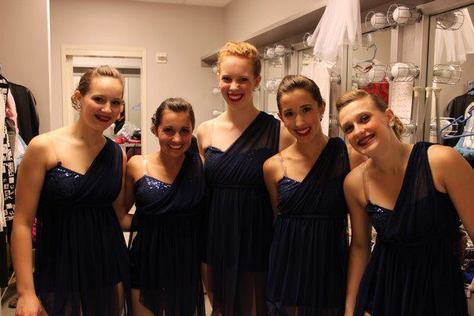 Our advanced jazz and ballet students are our highest level dancers. It is and has always been our policy that those taking intermediate or advanced jazz take ballet as well to further enhance their dance. They must have prior experience in dance and are selected by recommendation or on a tryout basis. Once selected, placement for the advanced classes depends on age, ability, and experience.
The ballet class focuses on proper technique for all dance moves, as ballet is the basis for all forms of dance. We also stress flexibility and balance. Students learn ballet turns, leaps, jumps, balance moves, and a variety of combinations as well as a lyrical ballet routine, which will be performed at the recital.
Jazz gives the students the opportunity to further advance all their dance skills. The progression rate is much higher in our students who take the advanced jazz and ballet classes. All students in our advanced dance classes will have the opportunity to participate in one or more dance production routines throughout the year for performance and competition.
Our advanced dance students performed at Walt Disney World in 1994, 1996, and 2004 and at Universal Studios in Orlando, Florida in 2004. In December 2007, they performed in the nationally televised "Big Bay Balloon Parade" in San Diego, CA and halftime at the Pacific Life Holiday Bowl. They have also performed at numerous events throughout the community and state each year including high school and college halftime events, school functions, organization and community events, charitable organizations, local and state pageants, and parades.
Our dancers have won numerous local, state, regional, and national dance titles, in Primary, Junior, Senior, and College Danceline. In July of 2004, the Primary, Senior, and College Dancelines all won first place at the National & World Championships and in July 2007, the Senior Danceline carried on their title when they won their 7th straight National & World danceline title at Notre Dame with their performance of "Money". In 2008, the Junior Danceline took home the National & World danceline title with their performance of "Bring It On". In July 2010, our Senior Danceline routine "MJ vs Billie Jean" claimed the World & National danceline title.